Happy Tuesday!

If your anything like me you are a broke sister! Haha jk. But no really saving for a house and having an outrageous car payment will make your makeup budget and clothing budget minuscule or even non existent. I know there are dupe videos all over youtube and they inspired me to do this dupe for high end. Since I own almost zero high end makeup brands I referred to my fav youtube Guru EmilyNoel. She is simply amazing. She has some of the best videos out there. So here we go!

*update, I have been getting emails wanting me to update this post, also to the not so nice person, I hope someone gives you a hug* And this post did need to be updated.

Primers:
I have super dry skin so I need a moisturizing primer. A lot of people Love the Porefessional Primer by Benefit. I have tried it at the stores and the consistency is amazing but the price not so much.So I used to have the ELF Mineralizing primer as a dupe for this. And they both worked the exact same on my skin, like I said before hostile, they are not the same color or consistancy, but they work the same under your makup. But now days every brand has some kind of pore blending product and I have found two that can dupe for the porefessional.




Loreal Miracle Blur: $14.99
Benefit Porefessional: $30.00
Cheapest Dupe other than the ELF ($6) , Baby Skin by Maybelline: $6.99

Emily compared Smashbox Primer with Hard Candy Primer







Smashbox: $36

NYX: $ 11.99

And you can go even cheaper for Hard Candy Sheer Envy Primer $8


Eye Primer:





Urban Decay: $20

Palladio: $7

I have tried both I am highly allergic to the Urban Decay primer..the Palladio irritates my skin but I have super sensitive skin. You can use the ELF eyelid primer that works pretty well, I am currently using Benefits Stay Don't Stray ($26), it is pricey but you get a lot of product, I bought mine about 6 months ago and it is not even half gone.


Blush:




MAC Betty Cream Soda Blush: $22 normally now since it is sold out and limitied edition I have seen it from $44-$105

Elf Candid Coral: $3.00
And you can find this at Target, Walmart, and EyesLipsface.com



Setting Powder:



Makeup Forever HD powder:$30

Elf HD powder: $6.00

If you do flash photos make sure you use a colored powder like the elf yellow setting powder not white because you will get flash back. That is why I like the elf HD powder better. It comes in white, yellow and pink. Yellow and pink will not flash back where as white will. HD is for video, not for flash photos. So beware of that when applying your makeup. The Yellow Elf HD powder is also a dupe for Ben Nye's banana powder.


Eyeliner: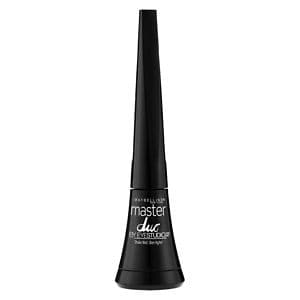 Lancome:$30.50

Maybelline Duo: $7

I swatched Lancome and the color sucks. Not going to lie. Its a muted black. I have the Duo and I love the color and application. Much better and much cheaper. There are a million amazing liquid liners. I don't know why you would want the Lancome anyway.

Lip Liner:

Guaranteed any lip liner MAC had NYX has a dupe. Not dissing on MAC at all but lets be serious...sometimes I don't want to spend $13 on a lip liner I can spend $4 and get the same.


Lip Gloss

Stilla Lip glosses are nice but you can get a dupe for them from elf. Both have the clicky pens and have the same gloss. Elf is a little less sticky, and for one Stilla Gloss you can get eight elf lipglosses. Still is $8 each, Elf is $1.

Highlighter:





Benefits High beam:$26.00

No7 HighLights: $12.99 ( discontinued) I cannot find it anywhere now I used to have them at my target)

Elf Facial Whip is also really good, and its only $1
Also their Radiance Enhancer in Spotlight. For $3
Or their mystic moonlight body shimmer also $3

Bronzing Highlighter




Benefit Sunbeam:$26

Hard Candy Glow all the way: $6

The hard Candy does kind of self tan you but if you wash it off every day with toner or oil based makeup remover it wont really do anything.



Bronzer:






Lorac Perfectly Lit in Spotlight :$32

Wet N Wild Reserve your Cabana:$4

I have swatched both at the store and I am not a fan of Lorac, I think they are expensive muted powders. But I love Wet N Wild. They only had a tester in that shade when I swatched them. I need to find it again and just buy it.

*update: for normal people these aren't dark enough to classify as a bronzer, but I am pretty dang fair, so I need a very light bronzer so I don't look like the Lohan Punched Face look.*


Naked Basics Palette:




Naked Basics: $26

Elf 188 shadow palette in neutrals: $15

Urban Decay has the best eye shadows, but elf has some ok eyeshadow. You have to build up the elf a little bit more but for half the price you get a whole lot more for your money and everyone of the basic shades are in the neutral palette. Coastal Scents also has one. And Butt Naked Eyes but NYX.

Foundation:




Naked Skin by UD: $39

Revlon Colorstay: $10 ( they have one for dry/normal skin and one for oily skin)

They both have the same buildable consistency. I love them both but I cannot justify a $40 purchase when I can get it for $10.